Windstream Internet services are the 6th largest DSL provider in the United States. It provides internet service withing the 50 states in the country. Aside from DSL broadband, Windstream also offers cable, fixed wireless, and copper Internet service. They are the 7th largest fiber broadband provider in the US with an estimated 1.7 million users.
How about its plan, prices, download speed, and contract? Continue reading to find out.
Windstream Plans and Prices
Most internet service providers plan and pricing varies where you are located. Even selected cities have different prices. Enter your zip code here for the latest price based on your location.
Standard Speed Internet ($49.99 per month, Upto 15 Mbps download speed, great for basic web browsing, Modem rental is $9.99 per month)
Enhanced Kinetic Internet ($54.99 per month, Upto 25 Mbps download speed, great for Gaming and Streaming, Modem rental is $9.99 per month)
Price for Life Internet ($69.99 per month, Upto 25 Mbps download speed, Lifetime Price Guarantee and includes wireless gateway)
Learn more about Windstream Internet For Business Deals and Promotions
Windstream Availability
What we like about the company is their availability in rural areas. They provide internet service in 18 states in the United States such as Alabama, Arkansas, Kentucky, Minnesota, Missouri, Oklahoma, Pennsylvania, Mississippi, North Carolina, Nebraska, New Mexico, New York, Ohio, Florida, Georgia, Iowa, South Carolina, and Texas.
Here's a coverage Map provided by Windstream to get an idea if Windstream internet is available in your location.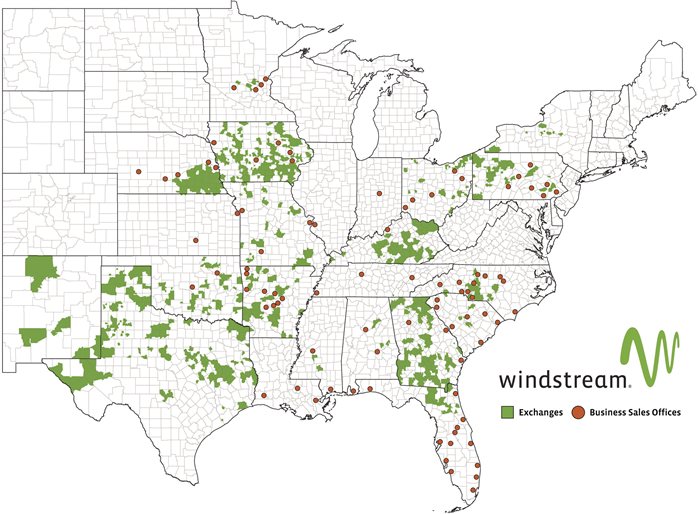 How About Data Caps?
Most of us hate the data cap. As an internet user, we prefer internet companies that remove data caps on their plan. Luckily, Windstream has no data caps unlike other internet service providers in the US. That is a big win for Windstream.
Conclusion
Windstream Internet loves the rural folks. It is the best option if you're living in rural places. They offer a variety of download speeds, so you can choose base on your budget and internet needs. One good thing about Windstream DSL is, they are faster than satellite internet. Plus, no data caps and unlimited internet