AT&T is the largest telecommunications company in the world and a leading high-speed Internet provider. High-speed internet service from AT&T Business gives small business & enterprises the scalable features and speed needed to stay connected
AT&T Small Business High-Speed Internet Service starts at $40.00/month. All plans come with complimentary AT&T Wi-Fi access at 1,000s of hot spots,
---

---

Features
Protect Your Computer – State-of-the-art firewall software for AT&T DSL shields your computer from unauthorized access and email virus protection software keeps your system safe from infected email.
Eliminate Pop-Up Ads – An integrated pop-up blocker prevents those annoying ads from interrupting your High-Speed Internet experience.
Free Dial-Up Access – Enjoy unlimited access to Dial-Up AT&T Internet Service when traveling throughout the United States.
Fry the Spam – The AT&T DSL SpamGuard feature helps keep unwanted emails from clogging up your inbox.
Highly Customizable – Your browser and home page can be changed as often as you like to suit your preference.
Smooth Transition – Email forwarding and address-change notification make switching easy and invisible to your customers and colleagues.
Stay In Touch – Instantly AT&T Messenger, complete with high-quality video, allows you to instant message with your customers, employees, and colleagues.
You Ought To Be In Pictures – With AT&T High-Speed Internet, you get Flickr Pro free! Unlimited photo storage and uploads and great tools to share your photo stories (a $24.95 annual value). And if you get bored with your pictures, you can also explore hundreds of millions of photos from across the world.
Static IP Addresses – A static IP is useful for consumers and many small businesses that have minor needs such as host a web, mail or FTP server, access a corporate network remotely, host a webcam for video streaming, use video conference applications.
Dynamic IP Addresses – Every time you log on to the Internet, your computer is assigned a new, unique IP address, making it more difficult for hackers to find you.
---
Internet Service Options
AT&T Fiber Broadband Gateway (FBG) – Share one high-speed Internet connection with multiple computers or other devices when you make AT&T your Internet provider.
High-speed Modem – Receive an external Ethernet modem for connecting your computer to the Internet.
Customer Self-Installation – Install your AT&T Internet service yourself and save money while obtaining the installation that's best for you.
Technician Installation – A service technician visits your location and installs your AT&T Internet service. Service fee may apply.
---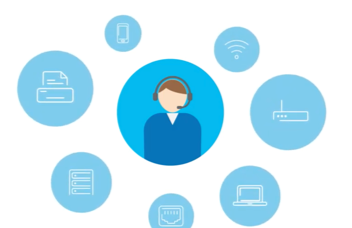 ---

Asymmetric vs. Symmetric – Asymmetrical networks have different upload and download speeds and are useful when your business needs to download a lot more data than upload, like with standard Internet browsing. Symmetrical networks have the same upload and download speed and are useful if your business has a need for large file or image transfers or is running real-time applications like virtual private network (VPN), Voice over Internet Protocol (VoIP), and video conferencing.
---
Take advantage of these special offers​​​​​​

---
Related Articles: